Goalie Catcher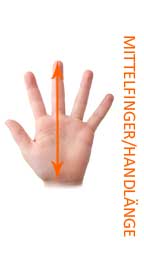 To figure out the right size for the catching hands, you need to measure the length from the tip of your middle finger to the bottom of the hand. The cm coming out here, fill in the form or match it with the table. There is a size named Intermed. This is used when Junior is too small and Senior is too large.
You need the size
Attention: Decimal place please with a "." (Dot). Example: 25.5
In case of an "or-result" please look again at the chart below and match you size with additional values.
Hand length
Size
11,9-14,3 cm
→
Bambini
14,4-16,0 cm
→
Junior
16,1-17,8 cm
→
Intermed
17,9-21,3 cm
→
Senior